Small Luxury Hotels of the World (Mali luksuzni hoteli sveta) svojim najnovijim hotelom - Arctic Bath (Arktička kupka) ulaze u zemlju ponoćnog sunca. Smešten u Švedskoj, u Laponiji, ovaj plutajući spa hotel poziva goste da potpuno urone u prirodu i pravi je proaktivni zagovornik ekološke održivosti od otvaranja u januaru 2020. godine.

Zimska sezona je počela 21. novembra 2020. i trajaće do 10. aprila 2021, dok za leto 2021. još nisu izašli sa datumom. Arktička kupka se, inače, nalazi u selu Harads, mikro destinaciji za putnike koji vole luksuz, u regiji koja se često smatra "poslednjom divljinom" severne Evrope.

Plutajući luksuzni hotel sa 12 soba inspirisan je vremenom kada su reke bile preplavljene plutajućim balvanima koje su drvoseče tako spuštale niz vodu na obradu. Arktička kupka pluta tokom leta, dok je zimi okovana ledom, centrirana oko divovske ledene kupke na otvorenom, koju okružuju tri saune, sala za spa tretmane i vruće kupke. Šest "vodenih" kabina za dvoje sa nadvodnim palubama koje pružaju savršen vidikovac za uživanje u Polarnoj svetlosti. Na obali je izgrađeno šest većih 'kopnenih' kabina. Četiri pružaju smeštaj za do pet gostiju, dok su dva apartmana, svi sa staklenim zidovima, koji takođe nude prvoklasna mesta za posmatranje ovog prirodnog fenomena. Enterijeri su oblikovani prirodnim materijalima, uključujući drvo, kamen i kožu, i predstavljaju švedske dizajnerske brendove.

Zajedno sa spa i wellness sadržajima, boravak u Arktičkoj kupki nije samo potpuno iskustvo, to je - glavna atrakcija.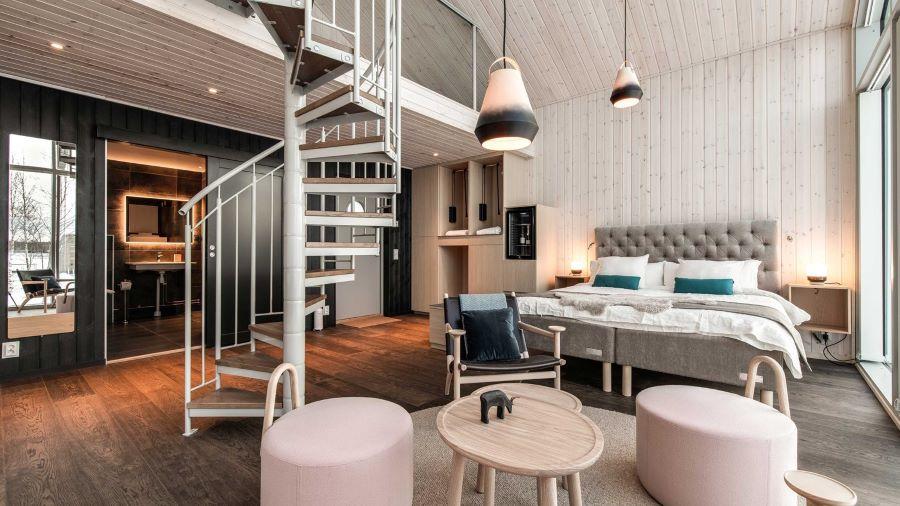 Foto: https://arcticbath.se/